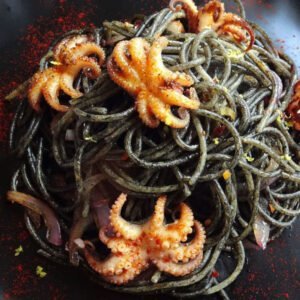 Squid ink pasta with baby squid
Squid ink pasta with baby squid is better known in Spain as 'Fideua negra' and can be found most prominently up and down the Mediterranean coast. The Squid Ink flavor is delicious, and best of all, this recipe is quick and very easy to make.  It's ideal for a midweek dinner or for when you need something fast and flavorsome. Our Squid ink pasta recipe serves 4 people and can be made in around 30 minutes.
12 inch frying pan with deep sides

large pot for boiling the spaghetti
14

Oz.

400 grams baby squid (tubes or whole).

0.5

Oz.

12 grams of black squid ink.

300

grams

of Spaghetti.

Rind and juice of ½ lemon.

1

large red onion

sliced fine.

3

garlic cloves

minced. (optional).

A handful of fresh parsley

chopped fine.

3

tablespoons

of extra virgin olive oil.

Salt and freshly ground black pepper

for seasoning.
Step 1 - Prepare the baby squid
Note: If you've bought frozen or cleaned baby squid, you'll only need to cut up the tubes to suit, then fry the squid till golden and move onto step 2.

First, clean the baby squid in some fresh water.

Remove the head and tentacles and clean out the inner part of the tubes. Cut the tubes into ½ inch thick rings. Leave the heads whole and trim off any tentacles athat are too long.

Give everything a rinse in some fresh water and then place to the squid on some paper towel to remove the excess water.

In a large frying pan on high heat, add 2 tablespoons of olive oil and the prepared baby squid and fry for 3-4 minutes.

Around half way through cooking the squid, add the garlic. Once the squid has begun to become lightly golden, remove from the heat ad set aside for use later.
Step 2 - Prepare the base sauce
In a large pot, add some water and a pinch of salt bring to the boil. Add pasta and cook until al dente (around 10 minuteson a medium-high heat).

Meanwhile, in a large frying pan on medium heat, add the olive oil and red onion and fry for around 5 minutes or until golden.

Reduce heat to medium, remove the pasta from the water, strain all excess water and add the pasta to the frying pan with the red onion with the remaining olive oil.

Add the black squid ink and stri though thoroughly. Allow to simmer for around 5 minutes.
Step 3 - Seasoning
Next add the cooked baby squid and season with salt and pepper as required.

Remove from the heat and garnish with some juice from half a lemon (optional).
Step 4 - To serve
Ensure the squid ink is evenly mixed throughout the pasta before serving.

Garnish with chopped parsley.

Traditionally in the Valencian region, Squid ink pasta is called Fiduea negra and served with some fresh bread and some alloli verde (You'll find the allioli recipe here).
Serving:
150
g
Calories:
496
kcal
Carbohydrates:
52.2
g
Protein:
27
g
Fat:
19.8
g
Saturated Fat:
3.6
g
Cholesterol:
317
mg
Sodium:
489
mg
Potassium:
465
mg
Fiber:
0.8
g
Sugar:
1.5
g
Calcium:
59
mg
Iron:
4
mg