Spanish dessert recipes pave the path to sweet-tooth heaven! From the irresistible and gooey Galician Cheesecake to the mouth-watering flavors of the Crema Calatana. These desserts will have guests begging for more!
Here's a collection of authentic Spanish dessert recipes that have been made with extra love and are the perfect sweet round off for any Spanish meal, or maybe even as a sneaky mid-day treat!
Our Newest Spanish Dessert Recipes
Easy to follow, Step-by-Step Guides
Spanish Recipe Night
5 easy-to-make Spanish recipes that can be prepared in under 30 minutes
Bring home the flavors of Spain with our easy to follow guide to make delicious Spanish styled main meals in 30 minutes or less!
Our Favorite Spanish Dessert Recipes
The sweet-tooth hall-of-fame! These traditional Spanish desserts are easy to make and will bring the flavors of Spanish cooking into your home! Enjoy our top picks of Spanish main meal recipes we've made recently! Come back anytime, and don't forget, we'll add a new recipe to this list every week!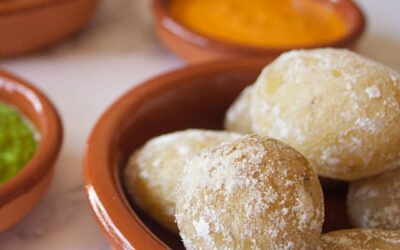 Papas Arrugadas with mojo verde and a spicy mojo picónfacebooktwitterinstagrampinterestyoutube Papas arrugadas, or Canarian wrinkly potatoes as they are also affectionately known, originate from the Canary Islands and are one of the easiest tapas...