Tapas is synonymous with Spanish culture and cuisine found all over the country – From the lively tapas bars of Madrid to the suave beachside restaurants that line the Mediterranean sea, enjoying a tapa is one of the many pleasures of Spanish cuisine and not to be missed at any opportunity!
We have scoured the stunning landscape of Spain, from the Northern regions of the Basque Country to the sun-soaked southern region of Andalusia and everything in between and have found the best Spanish tapas recipes, and best of all, our step-by-step tapas recipes are easy to make at home!
Spanish Tapas Recipes for Summer
Quick and Easy Tapas Party Recipes
Vegetarian/Vegan Tapas Recipes
Spanish Recipe Night
5 easy-to-make tapas recipes for the ultimate Spanish flavors!
Bring home the flavors of Spain with our easy to follow guide to make 5 of the best Spanish tapas recipes. Mix and match or choose your favorites!
Want something for dinner?
Check out our main meal recipes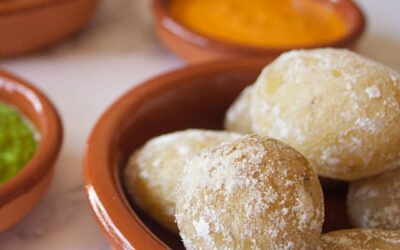 Papas Arrugadas with mojo verde and a spicy mojo picónfacebooktwitterinstagrampinterestyoutube Papas arrugadas, or Canarian wrinkly potatoes as they are also affectionately known, originate from the Canary Islands and are one of the easiest tapas...