Spanish sauces and basics
Find recipes with step-by-step instructions on how to make the best Spanish sauces for many of the most popular Spanish tapas and main meal recipes. All of these recipes are simple yet effective at unlocking the flavor potential for traditional Spanish cuisine. 
Our meat, fish, and vegetable seasoning tips will help you flavor dishes like a pro and our food guides will help you source only the very best produce seasonally. All this and many more cooking tips brought to you by our little Spanish kitchen.
It's no secret that the Mediterranean diet is healthy. It has been proven in numerous studies from all corners of the world, it aids weight loss, reduces the risk of heart disease and type 2 diabetes, as well as a growing list of other health benefits.
Find out what's most exciting about the diet and create some incredibly tasty and simple Spanish recipes.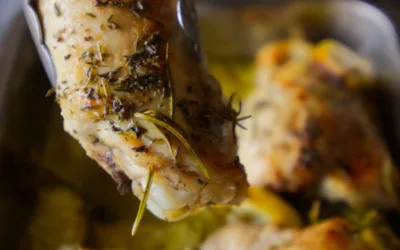 Lemon and Herb Chicken Thighs (super easy one-pot recipe, just 2 mins prep time) Lemon and herb chicken thighs is the perfect weekday dinner option. Delicious juicy chicken thighs lightly seasoned with Mediterranean herbs, some extra virgin olive...