Olive Oil Nutrition Facts
and how it can benefit your health
December 2022 – The Spanish Radish Blog
When it comes to olive oil nutrition, there are a number of facts that may surprise you. The benefits of olive oil stretch far beyond adding flavor to food or cooking with it. We think everyone should be aware of just how powerful this one food item can be, especially extra virgin olive oil (EVOO). 
At Spanish radish HQ, we use EVOO in just about every recipe, except for a few desserts! It's a staple in the healthy Mediterranean diet, and Spain produces the most olive oil in the world. It's no surprise that Spain regularly tops lists as the healthiest country in the world. The most common reasons cited are diet, exercise, and an easygoing attitude. 
Hop on board the Mediterranean-style diet by making some simple changes, starting with olive oil.
Olive oil nutrition facts
All types of olive oil are classified as a "fat", so how does it stack up against other "fats"? 
Here's a comparison table of olive oil versus some other common fats:
| | | | |
| --- | --- | --- | --- |
| Criteria | Olive oil | Butter | Canola oil |
| Calories per tbsp | 119 | 102 | 124 |
| Cholesterol | 0 | 30.5 mg | 0 |
| Saturated fat content | <15% | > 60% | <10% |
| Oleic acid content | >70% | >20% | >55% |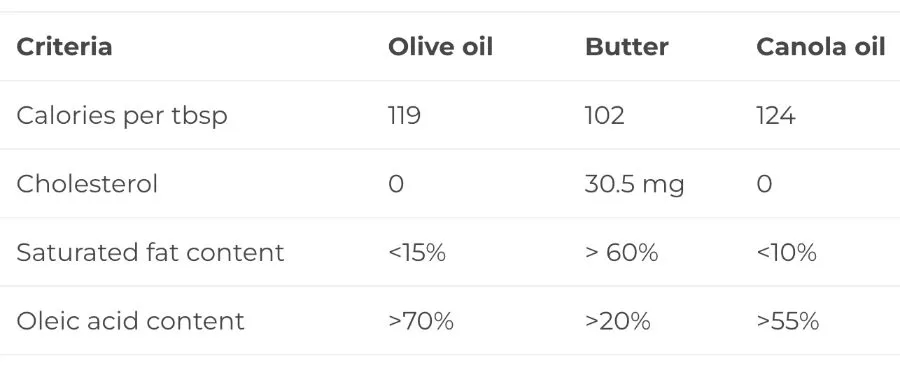 Oleic acid is the main fatty acid in olive oil. It has been linked to many benefits, including heart, skin, and brain health. 
Olive oil is also high in antioxidants, especially EVOO. Antioxidants are known to help prevent or treat many chronic diseases. Olive oil also contains minerals like potassium, calcium, and iron, and vitamins E and K.
The benefits of olive oil on your health
The benefits of olive oil are far-reaching. Olive oil has been the focus of numerous health studies, and experts continue to find new and impressive health benefits. 
Some of the main health benefits of olive oil are that it can:
Prevent strokes 

Reduce blood pressure

Protect again Alzheimer's Disease

Treat rheumatoid arthritis

Fight cancer
Other studies have even shown that olive oil can improve oral health. As well as fighting diseases, it's also a brain and mood booster. More than half of your brain is fat. Low amounts of Omega-3 have been associated with a negative mood and depression and anxiety. Olive oil contains Omega-3, so your brain benefits too. 
A surprising health benefit is that it could be attributed to weight loss. One study found that women who consumed 25 mL of EVOO every day with breakfast lost 80% more fat over a nine-week period than those who didn't. 
In Spain, the average person consumes 13 liters (3.4 gallons) of olive oil every year. That's approximately 879 tablespoons, which works out to 2.4 tablespoons per day. There are so many quick and tasty ways to add this "liquid gold" to your diet. 
If you haven't tried

pan con tomate

(bread with tomato), we recommend you try this out for breakfast. It's quick, tasty, and requires a very generous drizzle of extra virgin olive oil.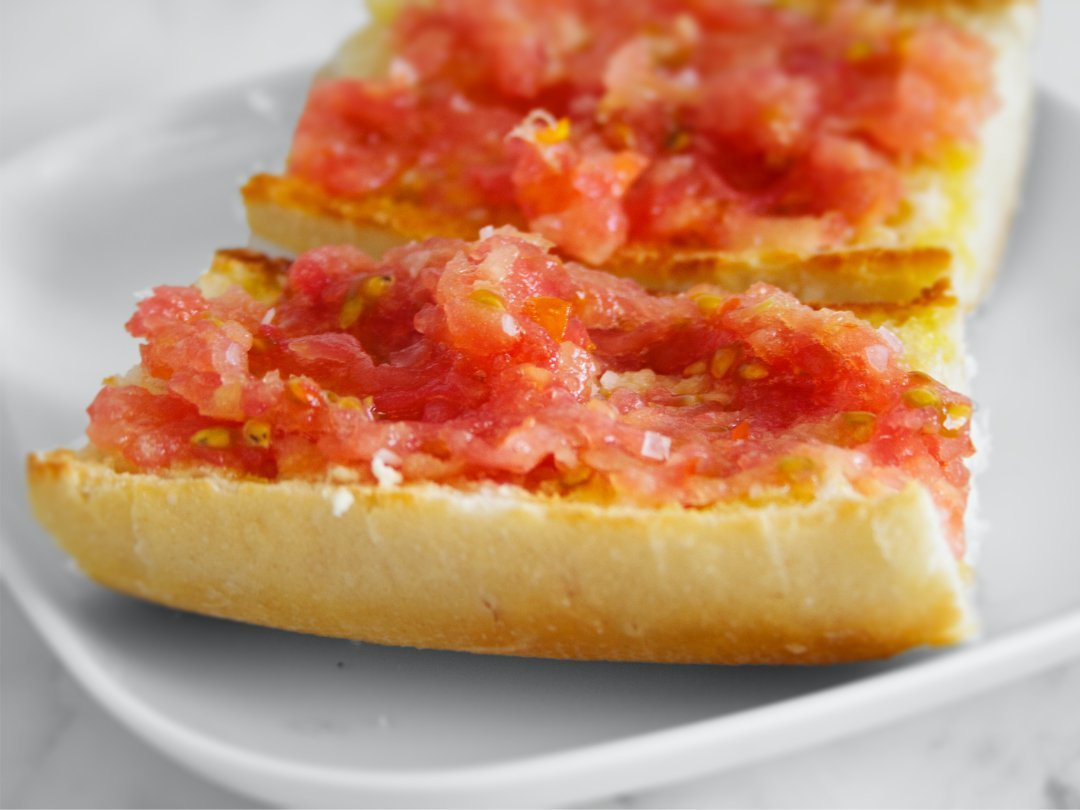 EVOO versus the rest
EVOO is made by pressing ripe olives with force, as opposed to using heat or chemical solvents like in other oils. This allows EVOO to retain more phenols, which boosts antioxidant effects.
Since it's the least processed oil, it also keeps more vitamins and minerals. As an added bonus, EVOO also has the most robust flavor. However, you can choose from milder-tasting EVOOs for dishes with delicate flavors. Let's look at some of the main types of Spanish olive oils, which will help you decide what's right for different types of recipes.
Spanish olive oil (aceite de oliva)
Some of Spain's olive trees are over a thousand years old, and still producing olives! With more than 200 types of olives grown, the taste and intensity vary wildly. This is great because there's an olive oil to suit every dish. Here are some of the most common varieties of olives used to produce Spanish olive oil (aceite de oliva):
| | | | |
| --- | --- | --- | --- |
| Olive | Taste | Strength | Perfect with… |
| Arbequina | Fruity, sweet | Delicate | Dressings, salads, seafood, veg, pasta  |
| Hojiblanca | Sweet, slightly spicy | Medium | Pasta, salads, fish |
| Picual | Herbaceous, fruity, spicy, bitter | Robust | Fried or baked dishes, meats |
| Cornicabra | Fruity, spicy, bitter | Robust | Roasts, stews, fried dishes |

More about Arbequina olive oil 
This delicate olive oil is great if you're looking for a mild flavor. It has no bitter aftertaste so it's also an easy place to start if you're wanting to introduce more olive oil into your diet. 
Since it's a sweeter oil, it lends itself nicely to salads. If you make a dressing (or just drizzle some on alone), it will complement a range of ingredients from lettuce to dried fruit. It also works great in seafood dishes and on pasta (we combined the two in this seafood and mussels pasta recipe). 
More about Hojiblanca olive oil 
The hojiblanca tree gets its name from the white color of the leaves. It's grown mainly in the South of Spain, but the EVOO produced is used widely all over the country. 
It has sweet notes but also a slightly spicy finish, unlike Arbequina olive oil. It's a super versatile oil, and you'll find it goes well in most dishes. It's commonly used in pasta, salads, and fish recipes, like this Spanish-style roasted fish.
More about Picual olive oil 
Picual is the most common variety produced in Spain. You can really tell the difference with this olive oil in how it tastes, smells, and looks. It's punchier to the nose and mouth, and has a more intense green color. 
Picual is a great option for a recipe like poor man's potatoes (vegan). It also goes well with meat dishes, and if you love EVOO, it's wonderful just by itself with some fresh bread. 
More about Cornicabra olive oil 
Cornicabra is the second most common variety produced in Spain (by land area). It's a good option for frying with since it can be reused. It's also great if you want a punchier flavor, and can be used in roasts or stews like this Spanish chicken and rice recipe.
We hope you've enjoyed learning more about extra virgin olive oil today. While it may cost more than other olive oils, it's a great investment for your health and tastebuds. 
All of the varieties have their own unique flair. We hope you find a favorite (or two), and don't limit yourself to those on this page, of course. It may be more difficult where you are to source Spanish olive oil. If that's the case and you're not sure about the varieties in the stores close to home, opt for an EVOO that comes in an opaque bottle = best quality.
FAQs and Cooking Tips
What is olive oil good for?
Olive oil can be used as a flavor enhancer in meals, as a base for dressings, to make marinades, to bake dishes in the oven, to fry foods, or be simply enjoyed plain (with a good hunk of fresh bread). 
What is the healthiest olive oil to use?
The healthiest olive oil is the undisputed extra virgin olive oil. It's higher in antioxidants, contains vitamins and minerals, and boasts an impressive list of health benefits such as preventing strokes and fighting cancer.
Is it OK to eat olive oil every day?
It's not only OK to eat olive oil every day, but studies have shown that consuming extra virgin olive oil every day has remarkable health benefits. As with everything, moderation is key. Most experts agree that swapping other "fats" for olive oil is beneficial. 
What is the difference between olive oil and extra virgin olive oil?
The process of making extra virgin olive oil doesn't require heat or chemical solvents, and it's the least processed olive oil. This gives it the added advantage of being healthier and tastier.
What does EVOO mean?
EVOO is the acronym for extra virgin olive oil. It's the highest quality of all olive oils and is the most flavorsome. EVOO is also the most beneficial to your health, thanks to the production process. 
Is extra virgin olive oil safe for cooking? 
Yes, all types of olive oil are suitable for cooking. The smoke point for Extra Virgin Olive Oil is 410°F (210°C), making it ideal for frying or baking.

Want to check out more produce from Spain?
Our foodie guides are jam-packed with recipe ideas, travel tips, and where to find the best dishes in Spain
.
Made for foodies by foodies.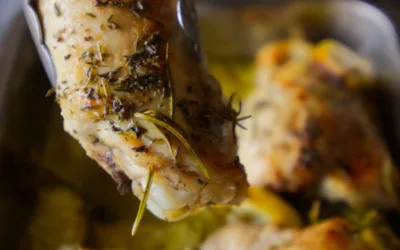 Lemon and Herb Chicken Thighs (super easy one-pot recipe, just 2 mins prep time) Lemon and herb chicken thighs is the perfect weekday dinner option. Delicious juicy chicken thighs lightly seasoned with Mediterranean herbs, some extra virgin olive...